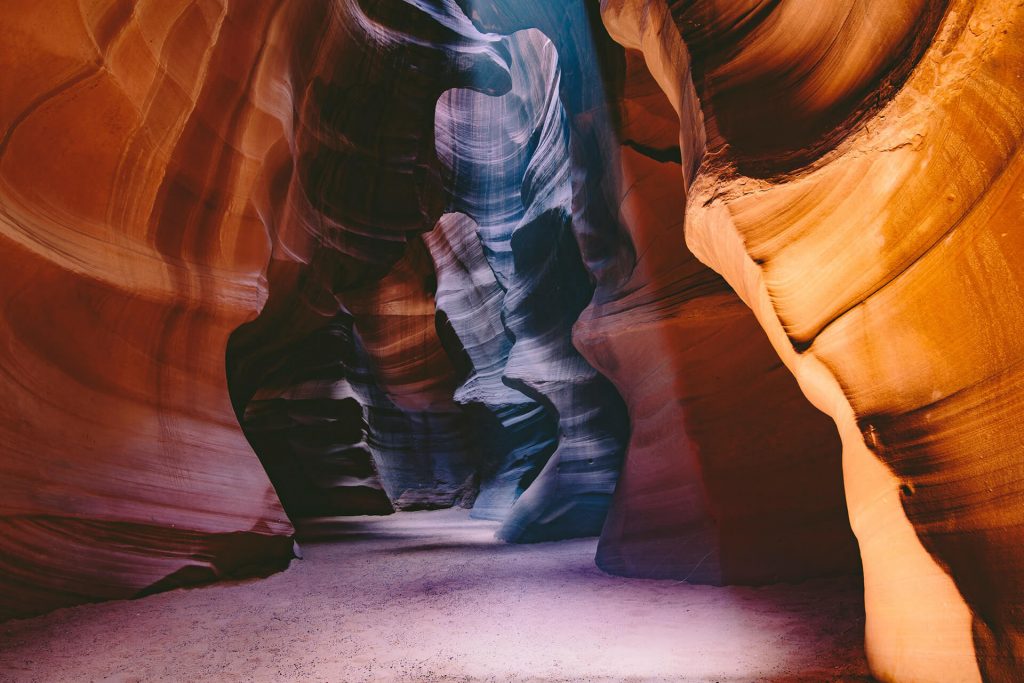 How do I choose the right tour?
All of Antelope Canyon is located on Navajo land near Page, Arizona. There are several sections that are open to visitors. It is mandatory to visit on a scheduled tour and with a Navajo guide. Different Navajo families own sections of the natural slot canyon and offer tours that are booked for specific dates and times. Visitors are not allowed to explore the canyon on their own; instead, they must purchase an admission ticket or a day tour that includes an admission ticket.
How many Antelope Canyons are there? The simple answer is one. It is one canyon with several sections open to visitors.
Antelope Canyon Wash is a natural slot canyon approximately 30 miles long and includes a number of different sections. Each section has its own beautiful presentations of light, color, and shape. Sunlight pours in through the canyon walls. Each day, and each hour, the light changes. All of the sections of slot canyons are made of Navajo Sandstone.
Antelope Canyon X
Antelope Canyon X is a unique section of the slot canyon. It is named after the X carved into the Navajo Sandstone, which was created by millions of years of rainfall and wind. The Navajo guides assist guests through a tour of the first slot canyon. After the first slot canyon section is complete, guides then lead guests on the 200-meter walk to the second slot canyon section. The visit includes 334 feet of walking and offers great lighting with occasional light beams. In the afternoon, Canyon X will show some darker hues of purple and blue. There are no ladders involved in visiting Antelope Canyon X, only a walk down a dirt road, or steps alongside, to arrive at the entrance.
Lower Antelope Canyon
Visitors to Lower Antelope Canyon will descend down into the canyon using some steep, narrow, metal stairs. There are a total of five flights of stairs in Lower Antelope Canyon. It is not very difficult to navigate as long as there are no mobility issues for the guests. This section of the slot canyon is narrower and nicknamed Corkscrew Canyon. It is mostly V-shaped with some A-shaped and parallel slot canyon walls. It includes 1335 feet of walking. There is usually great lighting all day throughout the year. Light beams will often appear during late mornings, except for in the winter time.
Upper Antelope Canyon
This section can be entered at ground level and is a fairly easy section to walk through on flat ground. There is a staircase to exit the canyon. It is an A-shaped canyon and includes 660 feet of easy walking. Upper Antelope Canyon is generally wider than other sections. You are driven from the check in area directly to the mouth of the canyon. Light beams will often hit the canyon floor from April to August.
Secret Antelope Canyon
Horseshoe Bend Slot Canyon, also called Secret Antelope Canyon, offers both A-shaped and V-shaped sections. It includes a half-mile total of walking. There is great lighting during most of the day, and guests are allowed to take videos. Secret Antelope Canyon is part of the Antelope Canyon wash and is still somewhat undiscovered. This section does not feel crowded. Visits are made in small groups, each of which is the only group inside the canyon at that time. There are no ladders or stairs. Groups are driven from the office to an area near the entrance, requiring a few minutes of walking on flat, sandy ground.
What is Antelope Canyon?
This incredible natural slot canyon was formed, and is continuing to be formed, by the water erosion of the soft Navajo sandstone. Flash floods are mostly responsible for the natural artistry. During the monsoon season, water will flow from the natural basin upstream through the slot canyon. The water and sand rush into the narrow walls of Antelope Canyon. As they wash through, shape, form, deepen, and smooth the walls, they continue the creation of dramatic formations. The result is truly a masterpiece of nature. Everyone should have the experience, at least once, to see and feel the artistry of Antelope Canyon. The Navajo name for Upper Antelope Canyon is Tsé bighánílíní, which means "the place where water runs through rocks."
This area opened to visitors in 1997, when the Navajo nation made it into a Navajo Tribal Park. Since its opening, it has grown into one of the most sought-after destinations for international visitors. Many of those who live in the Southwestern United States have not yet visited, even though it has grown more awareness with our global friends through social media. In fact, many now recognize the dramatic pictures but may be unsure where it is located. The expansion of recent social media has propelled this once unknown destination into the global arena, placing it on the must-visit list for many travelers.
How Can I Visit Antelope Canyon?
One easy way to plan a visit is by booking a day trip to Antelope Canyon from Las Vegas. The tickets will be included and scheduled for you, making the process smoother and simpler, or you can choose to purchase your own tickets and make your own travel arrangements. A visit to any section of Antelope Canyon must be with a local operator, which will include a Navajo guide. All tickets are for specific dates and times and must booked in advance. Dates and times can sell out, so advance bookings are advised. All of Antelope Canyon is on Navajo land and, therefore, is subject to the Indian Environmental Protection fee (Navajo Parks Fee) of $8.00 per person in addition to the tour price. This fee is for each day and will allow guests entrance into another area of Antelope Canyon the same day, or to Monument Valley, without paying an additional $8.00.
Horseshoe Bend
Only about 15-20 minutes away from Antelope Canyon is another area that should be included in a visit to Page, Arizona. Horseshoe Bend Overlook is a spectacular viewpoint, 1,000 feet above a picturesque U-shape turn in the Colorado River. This area, upriver from the Grand Canyon, offers dramatic views from high above the Colorado River.
The right half of Horseshoe Bend is owned by the city of Page. Almost all travelers visit this side. The left half is owned by the same family that owns Secret Antelope Canyon and is only for private tours. One huge benefit of choosing Secret Antelope Canyon is that they will also escort you to the private side of Horseshoe Bend, which avoids the crowds as well as the 20-minute walk to the rim.
Location
Page, Arizona, is about a 4 ½ hour drive from Las Vegas, Nevada, or from Phoenix, Arizona. It is about 6 hours from Salt Lake City, Utah. Many visitors drive to Page and stay a few days to enjoy the many sites and activities in the area. There so much to do in the Page area, including Lake Powell, Rainbow Bridge, and Monument Valley. Page is also home to Glen Canyon Dam. Completed in 1966, the dam held the waters of the Colorado River to create Lake Powell. Visitors can walk across Glen Canyon Bridge and enjoy scenic views down to the Colorado River. It offers an excellent Visitor Center that includes informational displays, a historical film, and excellent views from the top of the dam.
Lodging
Page offers a variety of accommodations, including some vintage, mid-century modern motels close to the center of town and a good number of newer, name-brand hotels, such as Hyatt, Marriott, and Hampton Inn.