Get prepared for the visit of a lifetime. Here are top questions and answers to help you get ready for your visit.
1. What is Antelope Canyon?
Antelope Canyon is a natural slot canyon carved over millions of years into the Navajo Sandstone by water erosion. The slot canyon consists offers several sections open to visitors. Each section offers its own unique formations, shapes and views. Three of the most popular sections are Upper Antelope Canyon, Lower Antelope Canyon and Antelope Canyon X.
2. Where is Antelope Canyon?
Antelope Canyon is located near Page, Arizona. You can fly into Phoenix Sky Harbor International Airport (PHX) or Las Vegas McCarran International Airport (LAS), both of which are approximately a 4 to 5 hour drive from Antelope Canyon. You can book a Day Tour from Las Vegas that includes transportation, Antelope Canyon admission ticket, Horseshoe Bend admission and lunch.
3. Do I need a tour guide to visit Antelope Canyon?
Yes, you are required to take a guided tour to visit Antelope Canyon. Access to the canyons is restricted, and only authorized Navajo tour guides can take visitors through the canyon. This regulation ensures the safety of visitors and the preservation of the fragile canyon environment.
4. How do I book a tour?
It is recommended to make reservations in advance, especially during peak tourist seasons, as tour times can fill up quickly. You can choose either a Day Tour from Las Vegas or, if driving to Page on your own, you can purchase an admission only ticket to Antelope Canyon.
5. How long are the tours?
The length of the walking tour inside the canyon is approximately one hour. Check in time is a minimum of 30 minutes prior to the tour. Guests must arrive on time for their tour.
6. When is the best time to visit Antelope Canyon?
Antelope Canyon is open year-round. The best time to visit Antelope Canyon depends on your preferences and what you want to experience:
Peak Season (Spring and Summer): this is the most popular time to visit the canyon. There is more light and warm weather.
Off-Peak Season (Fall and Winter): For smaller crowds and cooler temperatures, consider visiting in the fall or winter months. Keep in mind that the light beams are less intense during this time.
7. What should I wear and bring to Antelope Canyon?
To make the most of your visit to Antelope Canyon, consider the following tips:
Comfortable Clothing: Wear comfortable, weather-appropriate clothing. In the summer, lightweight and breathable fabrics are ideal, while in the winter, dress in layers to stay warm. It can be hot or cold in the desert.
Sturdy Footwear: Wear comfortable, closed-toe shoes with good traction, as you'll be walking on uneven sandy terrain.
Sun Protection: Wear sunscreen. Bring sunglasses, and a wide-brimmed hat to protect yourself from the sun, especially in the summer.
8. Can I visit both Upper and Lower Antelope Canyon and perhaps Antelope Canyon X in one day?
Yes, it's possible to visit more than one section in a single day, if you drive your own car to Page. Most visitors just choose one section to visit, and day tours include entrance to only one canyon. A great idea is to visit to Horseshoe Bend Overlook, also located in the Page area.
9. Is Antelope Canyon accessible to all visitors?
Antelope Canyon tours involve some walking and navigating through narrow passageways with uneven terrain. It may not be suitable for individuals with mobility issues or those who have difficulty walking on uneven surfaces. It's essential to check with the tour operator about accessibility options before booking. Lower Antelope Canyon includes narrow, metal stairs to climb down into the area. Wheelchairs are not allowed in any of the sections.
10. Can I visit Antelope Canyon without a reservation?
It's highly recommended to make reservations in advance, especially during the peak tourist season. Walk-in availability for tours can be limited, and you may end up waiting for hours or even missing the opportunity if you don't have a tour reservation.
11. Are there age restrictions for visiting Antelope Canyon?
Age restrictions for visiting Antelope Canyon vary by each section, and the local operator's regulations. Keep in mind that the tour may not be suitable for very young children or infants due to the challenging terrain. Some tour operators may have their own age or height requirements, so check with them before booking.
12. Is it safe to visit Antelope Canyon?
Visiting Antelope Canyon is generally safe when you follow the guidelines provided by your tour guide. The canyons can be prone to flash flooding, so it's crucial to be aware of weather conditions and follow your guide's instructions. During the summer monsoon season, there is a higher risk of flash floods, so tours may be canceled or rescheduled for safety reasons. If the canyon is closed due to weather, please keep in mind that this is to keep the guests safe.
13. Can I visit Antelope Canyon on my own?
No, you cannot visit Antelope Canyon on your own. Access to the canyons is restricted, and only authorized Navajo guides can take visitors into the canyon.
14. Are there any cultural or environmental considerations when visiting Antelope Canyon?
Yes, there are cultural and environmental considerations to keep in mind:
Respect the Land: Antelope Canyon is considered sacred by the Navajo Nation. Treat the land with respect and follow the guidance of your tour guide to avoid damaging the environment.
Leave No Trace: Practice Leave No Trace principles by not leaving any trash behind and minimizing your impact on the environment.
Photography Etiquette: Be respectful of other visitors and your tour guide when taking photographs. Avoid blocking passageways and follow any photography rules and cautions set by your guide.
Stay on the Trail: Stick to designated paths and trails to prevent soil erosion and protect the delicate sandstone formations.
15. Can I camp at Antelope Canyon?
Camping is not allowed within Antelope Canyon itself. However, there are campgrounds and accommodations in the general area of Page, Arizona, where you can stay while visiting the area.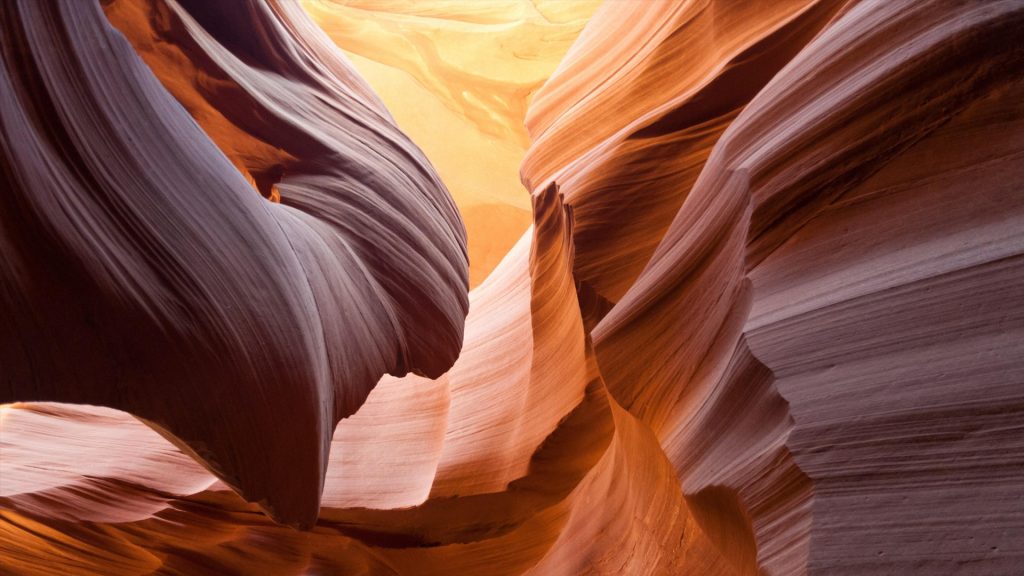 16. What are some nearby attractions to explore?
Antelope Canyon is situated in a region rich with natural wonders and cultural attractions. Here are some nearby places to consider exploring:
Horseshoe Bend: Just a short drive from Page, Horseshoe Bend offers breathtaking views of the Colorado River as it winds around a dramatic horseshoe-shaped bend.
Glen Canyon Dam: Learn about the engineering marvel of Glen Canyon Dam and its role in shaping the region's landscape at the Glen Canyon Dam Visitor Center.
Lake Powell: This man-made reservoir is ideal for boating, fishing, and other water activities. You can rent a boat or take a scenic boat tour to explore its unique landscapes.
Navajo National Monument: Visit the monument to see ancient cliff dwellings and learn about the history and culture of the Navajo people.
17. Can I visit Antelope Canyon in the rain?
Antelope Canyon may be close during or immediately after heavy rain. The canyons are susceptible to flash flooding, and rainwater can quickly fill the narrow passageways, posing a danger to visitors. The Navajo Parks and Recreation may close any or all sections of the canyon due to weather. Individual tour operators may close just their own section at times, while other sections remain open. Local, light rain may not close the canyon. While rain, miles away, may close the canyon since it is downstream from other areas.
19. How should I prepare for my visit?
To prepare for your visit to Antelope Canyon, consider the following steps:
Make a reservation for your guided tour in advance, or book a day tour to the area.
Check the weather forecast for Page, Arizona, and dress accordingly.
Arrive at the tour operator's office with plenty of time before your check in time.
Stay hydrated.
Respect the environment and follow your guide's instructions.
20. What's the best way to enjoy the experience at Antelope Canyon?
Open your eyes. Admire the wonder of the slot canyon. Immerse yourself in the natural beauty and unique ambiance of this amazing destination. Listen to your guide's advice and insights.
In conclusion, visiting Antelope Canyon is a once-in-a-lifetime opportunity to witness the wonders of nature. culture. Whatever type of traveler you are–nature lover, photographer, wanderer–Antelope Canyon promises a breathtaking experience that you will always remember.